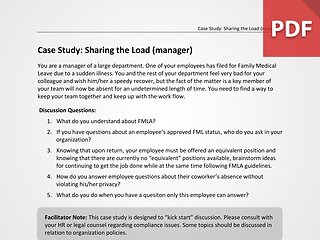 Sharing the Load
Legal Issues
This case study helps with understanding the FMLA and the impact on your team. Scenario: You are a manager of a large department. One of your employees has filed for Family Medical Leave due to a sudden illness. You need to find a way to keep your team together and keep up with the work flow.
Create Free Account Sign In 4873 views
Buying Options
Training Files (1)
| Title | Type | Time/Pages | Language | |
| --- | --- | --- | --- | --- |
Additional Information
Trainer Comments: This case study is designed to "kick start" discussion. Be sure to contact your HR/Legal cousel regarding compliance issues.
Related Content
Explore the Program: Case Study