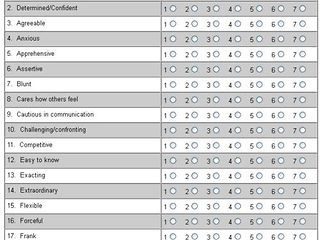 Ready. Set. CHANGE! Online Assessment
Change
Designed to reveal predominant behavior when interacting with others and responding to change, this highly-recommended online social styles assessment tool is designed to align with and enhance learning in the Ready. Set. CHANGE! program.
Create Free Account Sign In 7969 views
Suggested Industry Usage
Competencies
Managing for Peak Performance
Buy Now
Training Files (2)
| Title | Type | Time/Pages | Language | |
| --- | --- | --- | --- | --- |
Additional Information
Trainer Comments: The Change Response Assessment is based on a 40-item survey consisting of adjectives and adjectival phrases, which measure behavior in assertiveness and responsiveness. After completing the assessment, participants receive the Change Response Profile (written in objective third person) providing them valuable information about their own style of behavior.
Related Content
Explore the Program: Ready. Set. CHANGE!: Reacting Smarter. Adapting Faster. Engaging Together.™