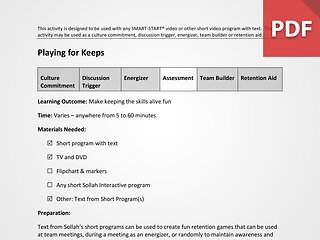 Playing for Keeps
Training Retention Activity
Make keeping the skills alive fun. Use a short program as a meeting opener or as part of a training session prior to implementing a Retention Game.
Create Free Account Sign In 12591 views
Buying Options
Training Files (1)
| Title | Type | Time/Pages | Language | |
| --- | --- | --- | --- | --- |
Additional Information
Trainer Comments: Text from Sollah's short programs can be used to create fun retention games that can be used at team meetings, during a meeting as an energizer, or randomly to maintain awareness and keep people focused on the outcomes that were shared and communicated during a meeting or training session.
Related Content
Explore the Program: Beyond the Box Activity Binder - eFile