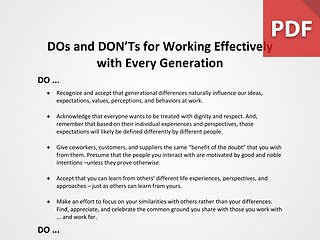 Generations - Tips for Success
Understanding Generations
Looking for easy-to-use tips for working with various generations in your workplace? Then this is the tool for you. With simple dos and don'ts - this training tool gives you plenty of information for your next training session.
Create Free Account Sign In 5489 views
Topics
Suggested Industry Usage
Competencies
Understanding Diversity

Fostering Inclusion, Equity & Belonging
Buying Options
Training Files (1)
| Title | Type | Time/Pages | Language | |
| --- | --- | --- | --- | --- |
Additional Information
Trainer Comments: Understanding that a respectful workplace is a productive workplace is a powerful tool. This resources describes how we should approach generational differences. Great tool to start generational conversations.
Related Content
Explore the Program: Generations: M.E.E.T. for Respect in the Workplace™