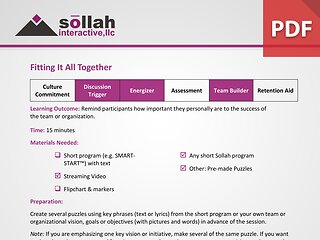 Fitting It All Together
Reinforce Employee Importance
Remind employees how important they are to the success of the organization - and how important their engagement fits into the overall team/workplace. Use any one of the various short video programs (a SMART-START™ or Discussion Generator video).
Create Free Account Sign In 11121 views
Buying Options
Training Files (1)
| Title | Type | Time/Pages | Language | |
| --- | --- | --- | --- | --- |
Additional Information
Trainer Comments: Create several puzzles using key phrases (text or lyrics) from the short program or your own team or organizational vision, goals or objectives (with pictures and words) in advance of the session.
Related Content
Explore the Program: Beyond the Box Activity Binder - eFile