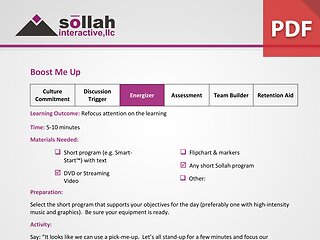 Boost Me Up!
Reinvigorate a Training Session
This energizer is intended to refocus attention on the learning at hand. Use any one of the various Sollah Interactive short video programs (a SMART-START™ or meeting opener).
Create Free Account Sign In 6079 views
Buying Options
Training Files (1)
| Title | Type | Time/Pages | Language | |
| --- | --- | --- | --- | --- |
Additional Information
Trainer Comments: Select a short program that supports your objectives for the day (preferably one with high- intensity music and graphics). Be sure your equipment is ready.
Related Content
Explore the Program: Beyond the Box Activity Binder - eFile