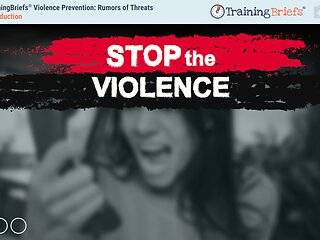 eLearning Course
TrainingBriefs® Violence Prevention: Rumors of Threats
Workplace Violence Prevention
New Micro-Learning! Like it or not, workplace violence is an issue you can't afford to ignore. Obviously, your top priority is making sure the workplace is safe. But there are also some legal liability issues that you need to be aware of. In this course, we'll address the topic of investigating rumors of threats.
Create Free Account Sign In 1582 views
Suggested Industry Usage
Interactivity
Audible Narration

Integrated Video

Interactions and Activities

Post-Assessment
Request a Quote
Training Files (1)
| Title | Type | Time/Pages | Language | |
| --- | --- | --- | --- | --- |
| | eLearning Course | – | English | Preview |
Additional Information
Trainer Comments: As a manager, you have an obligation under the law to investigate any rumor of threats no matter who is involved.
Related Content
Explore the Program: Legal Briefs™ Workplace Violence: Keeping Your Workplace Safe