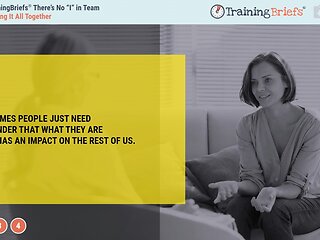 eLearning Course
TrainingBriefs® There's No "I" in Team
Getting Refocused on the Team Effort
New Micro-Learning! Most people don't intentionally come to work with a bad or difficult attitude. The problem is a lot of people don't understand - or they forget - how our attitudes affect the people around us. When these situations do arise, all it really takes is a gentle reminder that what they're doing has an impact on the rest of us.
Create Free Account Sign In 1520 views
Topics
Suggested Industry Usage
Competencies
Developing Core Leadership Skills
Interactivity
Audible Narration

Integrated Video

Interactions and Activities

Post-Assessment
Request a Quote
Training Files (1)
| Title | Type | Time/Pages | Language | |
| --- | --- | --- | --- | --- |
| | eLearning Course | – | English | Preview |
Additional Information
Trainer Comments: In this course, will observe a manager who notices one of her employees is not willing to help his fellow co-workers. Sometimes you need to jump in and let the employee know what's going on and the impact their attitude is having on the rest of the team.
Related Content
Explore the Program: ATTITUDE!™ - Resolving Difficult Situations in the Workplace