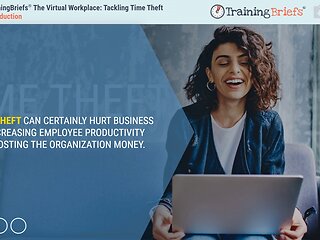 eLearning Course
TrainingBriefs® The Virtual Workplace: Tackling Time Theft
Time Theft
New Micro-Learning! Remote teams and mobile workers are becoming more and more popular among businesses. This makes tracking an employee's efficiency and productivity very difficult. This course tackles time theft… when an employee accepts pay from their employer for work that they haven't actually done, or for time they have not actually put into their work. Time theft can certainly hurt business by decreasing employee productivity and costing the organization money.
Create Free Account Sign In 1551 views
Suggested Industry Usage
Competencies
Leading and Managing for Peak Performance
Interactivity
Audible Narration

Integrated Video

Interactions and Activities

Post-Assessment
Request a Quote
Training Files (1)
| Title | Type | Time/Pages | Language | |
| --- | --- | --- | --- | --- |
| | eLearning Course | – | English | Preview |
Additional Information
Trainer Comments: While remote working allows organizations to tackle business and project work without being in the same physical location, it also comes with its challenges – keeping employees focused on their tasks and workday is one of them.
Related Content
Explore the Program: The Oh Series™ Everyday Ethics