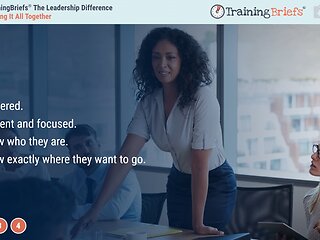 eLearning Course
TrainingBriefs® The Leadership Difference
Leading Others
New Micro-Learning! Leading others starts with your own values. The biggest difference between leaders and non-leaders is a leader's level of self-awareness — a leader knows who they are. Leaders are hyper-aware of what's important to them — they can put a name to their core values.
Create Free Account Sign In 1531 views
Suggested Industry Usage
Competencies
Creating a Collaborative Environment

Developing Core Leadership Skills
Interactivity
Audible Narration

Integrated Video

Interactions and Activities

Post-Assessment
Request a Quote
Training Files (1)
| Title | Type | Time/Pages | Language | |
| --- | --- | --- | --- | --- |
| | eLearning Course | – | English | Preview |
Additional Information
Trainer Comments: Because a leader knows their core personal values, they know they want to go to a better place, a world where their values are fully realized. Since they can't get to that better place all by themselves — it's too big a trip — they need to convince others on the value of going there, too.
Related Content
Explore the Program: Bury My Heart at Conference Room B™