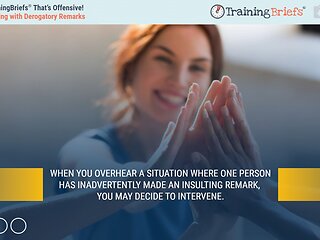 eLearning Course
TrainingBriefs® That's Offensive!
Tackling Micro-Aggressions
New Micro-Learning! So, how can we maintain respectful work relationships when someone uses a term or phrase that is offensive to others in the workplace? Diversity moments are often unintended, occur when we least expect, and can leave us surprised, confused, embarrassed, guilty, fearful, frustrated or uncertain. When you overhear a situation where one person has inadvertently made an insulting remark, you may decide to intervene.
Create Free Account Sign In 1660 views
Topics
Suggested Industry Usage
Competencies
Understanding Diversity

Fostering Inclusion, Equity & Belonging
Interactivity
Audible Narration

Integrated Video

Interactions and Activities
Request a Quote
Training Files (1)
| Title | Type | Time/Pages | Language | |
| --- | --- | --- | --- | --- |
| | eLearning Course | – | English | Preview |
Additional Information
Trainer Comments: While demonstrating respect for religious diversity presents some challenges, approaching these challenges with calmness and respect can reap the rewards of an inclusive workplace where employees of all beliefs feel valued.
Related Content
Explore the Program: M.E.E.T.: Breaking New Ground. Respect and Inclusion in the Workplace™