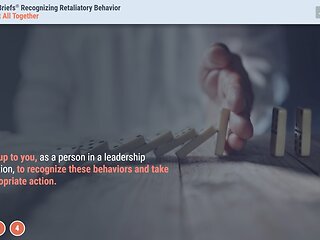 eLearning Course
TrainingBriefs® Recognizing Retaliatory Behavior
Recognize & Prevent Retaliation
New Micro-Learning! Retaliation is defined as any action that could dissuade a reasonable employee from making or supporting a charge of illegal, unethical or unsafe conduct. Many people have misconceptions about retaliation in the workplace. It is up to you, as a person in a leadership position, to recognize these behaviors and take appropriate action.
Create Free Account Sign In 1661 views
Topics
Suggested Industry Usage
Competencies
Ensuring Professional and Compliant Behavior

Keeping a Safe Workplace
Interactivity
Audible Narration

Integrated Video

Interactions and Activities

Post-Assessment
Request a Quote
Training Files (1)
| Title | Type | Time/Pages | Language | |
| --- | --- | --- | --- | --- |
Additional Information
Trainer Comments: When retaliation and sabotage turn violent and threatening, it's important to act quickly.
Related Content
Explore the Program: Be S.A.F.E. (Not Sorry): Preventing Violence in the Workplace™