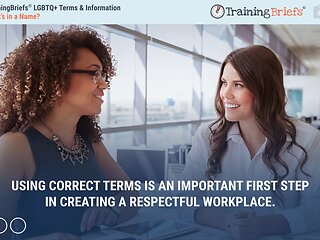 Most Popular
eLearning Course
TrainingBriefs® LGBTQ+ Terms & Information
Understanding Key LGBTQ Terms
New Micro-Learning! When it comes to encouraging inclusion in the workplace, terminology and vocabulary play a large role. Using derogatory names given to certain groups and people can perpetuate bias and stereotyping.
Create Free Account Sign In 1787 views
Topics
Suggested Industry Usage
Competencies
Creating a Collaborative Environment

Understanding Diversity

Fostering Inclusion, Equity & Belonging
Interactivity
Audible Narration

Interactions and Activities

Downloadable Job Aid
Request a Quote
Training Files (1)
| Title | Type | Time/Pages | Language | |
| --- | --- | --- | --- | --- |
Additional Information
Trainer Comments: Using correct terms is an important first step in creating a respectful workplace. In addition to using correct terms, it is also important to respect the ways that people choose to self-identify.
Related Content