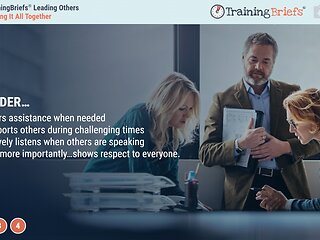 eLearning Course
TrainingBriefs® Leading Others
Understanding True Leadership
New Micro-Learning! We all know excellent leaders. We marvel at their skills. We trust them and willingly follow them. And, they lead our organizations and us to extraordinary success. So, what is it about them that's so great?
Create Free Account Sign In 1670 views
Suggested Industry Usage
Competencies
Leading and Managing for Peak Performance
Interactivity
Audible Narration

Integrated Video

Interactions and Activities

Post-Assessment
Request a Quote
Training Files (1)
| Title | Type | Time/Pages | Language | |
| --- | --- | --- | --- | --- |
| | eLearning Course | – | English | Preview |
Additional Information
Trainer Comments: In a world growing increasingly complex, there is an urgent need for leaders at every level… and in every organization. The need is for leaders who are prized because of contributions they make to their organizations, the role models they present and the elevated standards of performance they set.
Related Content
Explore the Program: A Leader Is...™