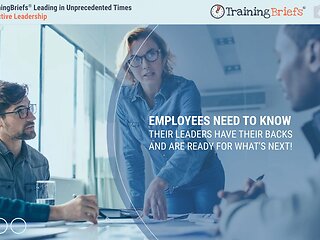 eLearning Course
TrainingBriefs® Leading in Unprecedented Times
Leading & Motivating Others
New Micro-Learning! Unpredictable times call for unprecedented leadership. During times of intense fluidity, employees, team members and associates are all looking for their leaders to set the tone. They need to feel inspired and motivated to navigate the unknown. They need to know their leaders have their backs and are ready for what's next! Most importantly, they need to trust that their leaders are beside them - every step of the way.
Create Free Account Sign In 1914 views
Suggested Industry Usage
Competencies
Leading and Managing for Peak Performance
Interactivity
Audible Narration

Integrated Video

Interactions and Activities

Post-Assessment

Downloadable Job Aid
Request a Quote
Training Files (1)
| Title | Type | Time/Pages | Language | |
| --- | --- | --- | --- | --- |
| | eLearning Course | – | English | Preview |
Additional Information
Trainer Comments: When it comes to effective leadership during times of conflict or crisis, there are still basic skills that must be leveraged in order to create and maintain a working and productive environment.
Related Content
Explore the Program: A Leader Is...™