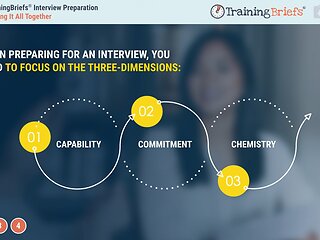 New eLearning Course
eLearning Course
TrainingBriefs® Interview Preparation
Effectively Preparing for an Interview
When preparing to interview candidates, it's important to ask questions that will help you evaluate capabilities, commitment and chemistry. This course helps you think about how you currently prepare for an interview and asks - what could you change to make your interviewing more effective?
Create Free Account Sign In 350 views
Topics
Suggested Industry Usage
Competencies
Developing Core Leadership Skills

Interviewing for Capability and Cultural Fit
Learning Objectives
Understand the three dimensions of an effective interview.

Learn what types of questions you should prepare before an interview that focus on the three dimensions.
Interactivity
Audible Narration

Linear Navigation

Integrated Video

Interactions and Activities

Post-Assessment
Request a Quote
Training Files (1)
| Title | Type | Time/Pages | Language | |
| --- | --- | --- | --- | --- |
| | eLearning Course | – | English | Preview |
Additional Information
Trainer Comments: Great tips and tricks for effectively preparing for your next interview. When you are preparing for a three-dimensional interview, you need to focus on the three-dimensions: capability, commitment and chemistry.
Related Content
Explore the Program: The Three-Dimensional Interview: Evaluating for Capability, Commitment and Chemistry