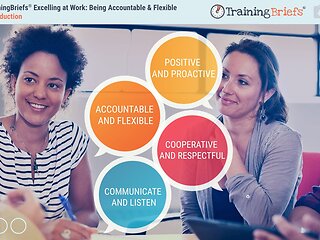 eLearning Course
TrainingBriefs® Excelling at Work: Being Accountable & Flexible
Key Strategy for Being Exceptional at Work
New Micro-Learning! Excelling at work doesn't simply mean you should be good at what you do, but also how professionally you conduct yourself on a team. There are four key strategies that, if you really focus on them, will make all the difference in the world. In this course, we'll explore the topic of being accountable and flexible.
Create Free Account Sign In 1449 views
Suggested Industry Usage
Competencies
Developing Critical Work Skills
Interactivity
Audible Narration

Integrated Video

Interactions and Activities

Post-Assessment
Request a Quote
Training Files (1)
| Title | Type | Time/Pages | Language | |
| --- | --- | --- | --- | --- |
| | eLearning Course | – | English | Preview |
Additional Information
Trainer Comments: When you're accountable and flexible, you build trust with people; you reduce your stress level; you're more productive and help keep your organization out of hot water.
Related Content
Explore the Program: WorkSmarts: How to Get Along, Get Noticed and Get Ahead™