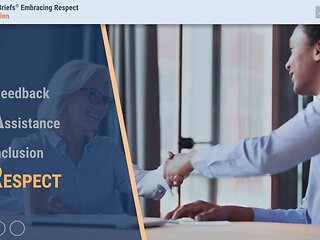 eLearning Course
TrainingBriefs® Embracing Respect
Creating a Respectful Workplace
New MicroLearning! Respect is about treating people the way they want to be treated. It means establishing and maintaining a work environment that is free of offensive practices and conditions. If disrespectful conduct and disparaging remarks come up, they are addressed quickly and effectively. Respect is also about speaking positively about the organization, even during times of crisis – focusing on why you originally came to work here and why you are staying.
Create Free Account Sign In 1743 views
Topics
Suggested Industry Usage
Competencies
Understanding Diversity

Fostering Inclusion, Equity & Belonging
Interactivity
Audible Narration

Integrated Video

Interactions and Activities

Post-Assessment
Request a Quote
Training Files (1)
| Title | Type | Time/Pages | Language | |
| --- | --- | --- | --- | --- |
| | eLearning Course | – | English | Preview |
Additional Information
Trainer Comments: In this course, you'll observe how important it is to respect everyone's situation on the team when it comes to stressful events in the workplace.
Related Content
Explore the Program: F.A.I.R. in Action™