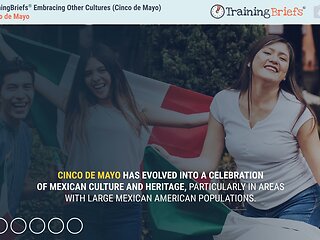 New eLearning Course
eLearning Course
TrainingBriefs® Embracing Other Cultures (Cinco de Mayo)
Understanding Others (Culture & Holidays)
New Micro-Learning! Understanding standing and embracing other cultures is a key part of creating an inclusive workplace free of bias and stereotypes. This course provides an overview of the Mexican holiday – Cinco de Mayo. People outside Mexico often mistakenly believe that Cinco de Mayo is a celebration of Mexican independence, which was declared more than a half century before the Battle of Puebla.
Create Free Account Sign In 592 views
Suggested Industry Usage
Competencies
Understanding Diversity

Fostering Inclusion & Respect
Learning Objectives
Understand the importance of learning about other cultures (and holidays).

Learn key facts (historical and cultural) about why Cinco de Mayo is celebrated.

Build your cultural competency and understanding about others.
Interactivity
Audible Narration

Linear Navigation
Request a Quote
Training Files (1)
| Title | Type | Time/Pages | Language | |
| --- | --- | --- | --- | --- |
| | eLearning Course | – | English | Preview |
Additional Information
Trainer Comments: Cinco de Mayo, or the fifth of May, is a Mexican holiday commemorating the Mexican army's 1862 victory over France at the Battle of Puebla during the Franco-Mexican War (1861-1867). It's also known as Battle of Puebla Day. While a relatively minor holiday in Mexico, in the United States, Cinco de Mayo has evolved into a celebration of Mexican culture and heritage, particularly in areas with large Mexican American populations.
Related Content