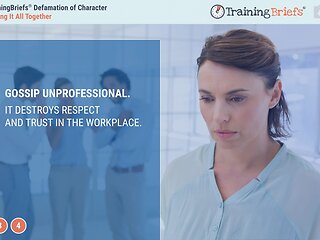 eLearning Course
TrainingBriefs® Defamation of Character
Gossip in the Workplace
New Micro-Learning! Gossip is one of those areas where it's easy to find us on the wrong side of the line. While it may seem like harmless water cooler talk, it's not. Not only is gossip unprofessional because it destroys respect and trust in the workplace; it can also get our organization and us into a lot of trouble.
Create Free Account Sign In 3856 views
Suggested Industry Usage
Competencies
Ensuring Professional and Compliant Behavior
Interactivity
Audible Narration

Integrated Video

Interactions and Activities

Post-Assessment
Request a Quote
Training Files (1)
| Title | Type | Time/Pages | Language | |
| --- | --- | --- | --- | --- |
| | eLearning Course | – | English | Preview |
Additional Information
Trainer Comments: Malicious gossip can be a violation of policy and can even be seen as defamation of character and result in a lawsuit. So, the best advice is, when it comes to gossip.... Don't start it and don't spread it. And, if you hear something you believe is out of line, report it.
Related Content
Explore the Program: Right Side of the Line: Creating a Respectful and Harassment-Free Workplace™