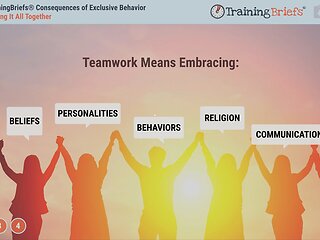 eLearning Course
TrainingBriefs® Consequences of Exclusive Behavior
The Impact of Excluding Others
New Micro-Learning! When employees feel left out, it impacts everyone in the workplace. Employees fail to work together, they miss work more frequently, and they eventually may choose to find employment elsewhere.
Create Free Account Sign In 1643 views
Topics
Suggested Industry Usage
Competencies
Understanding Diversity

Fostering Inclusion, Equity & Belonging
Interactivity
Audible Narration

Integrated Video

Interactions and Activities

Post-Assessment
Request a Quote
Training Files (1)
| Title | Type | Time/Pages | Language | |
| --- | --- | --- | --- | --- |
Additional Information
Trainer Comments: You may not realize the impact your actions have on coworkers who are not included. Your goal may be to include everyone but have the opposite effect by inadvertently excluding certain individuals.
Related Content
Explore the Program: Another Look: Defining Respect in Healthcare™