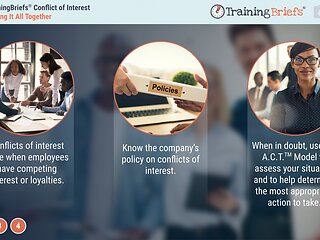 Recently Updated
eLearning Course
TrainingBriefs® Conflict of Interest
Ethics & Conflict of Interest
Updated! A conflict of interest arises in the workplace when an employee has competing interests or loyalties that either are, or potentially can be, at odds with each other. A conflict of interest causes an employee to experience a struggle between diverging interests, points of view, or allegiances.
Create Free Account Sign In 1654 views
Suggested Industry Usage
Competencies
Ensuring Professional and Compliant Behavior

Promoting Ethical Conduct
Interactivity
Audible Narration

Integrated Video

Interactions and Activities

Post-Assessment
Request a Quote
Training Files (1)
| Title | Type | Time/Pages | Language | |
| --- | --- | --- | --- | --- |
| | eLearning Course | – | English | Preview |
Additional Information
Trainer Comments: Conflicts of interest arise when employees have competing interest or loyalties. Be sure to know the company's policy on conflicts of interest. When in doubt, use the A.C.T. model to assess your situation and to help determine the most appropriate action to take.
Related Content
Explore the Program: A.C.T. with Integrity: Real Situations for Discussions™