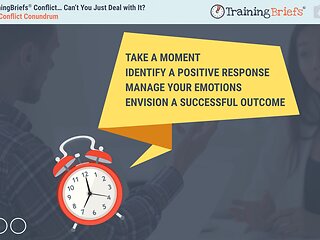 eLearning Course
TrainingBriefs® Conflict… Can't You Just Deal with It?
Effectively Resolving Confict
New Micro-Learning! When it comes to conquering conflict, sometimes you have to get out of your comfort zone when confronting an employee about their behavior. Using a "Flight" response to get away or avoid a situation may feel good in the short-term, but conflicts seldom resolve successfully when we avoid them.
Create Free Account Sign In 1721 views
Suggested Industry Usage
Competencies
Developing Core Leadership Skills

Leading and Managing for Peak Performance
Interactivity
Audible Narration

Integrated Video

Interactions and Activities

Post-Assessment
Request a Quote
Training Files (1)
| Title | Type | Time/Pages | Language | |
| --- | --- | --- | --- | --- |
Additional Information
Trainer Comments: Conflict is real. Understanding how to effectively deal with conflict will not only help you, but also help those around you.
Related Content
Explore the Program: Conflict Clock: Taking T.I.M.E. to Resolve Conflict in the Workplace™