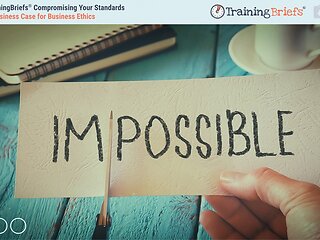 eLearning Course
TrainingBriefs® Compromising Your Standards
Using Inaccurate Information
New Micro-Learning! When it comes to using inaccurate information to meet a deadline - even if it doesn't seem to impact or affect the outcome of a situation - it is a very slippery slope. Sometimes there is information that should not be kept confidential.
Create Free Account Sign In 1631 views
Topics
Suggested Industry Usage
Competencies
Demonstrating Integrity & Professionalism

Ethics and Compliance
Interactivity
Audible Narration

Integrated Video

Interactions and Activities

Post-Assessment
Request a Quote
Training Files (1)
| Title | Type | Time/Pages | Language | |
| --- | --- | --- | --- | --- |
Additional Information
Trainer Comments: A subtle look at how we push the ethical envelop by using inaccurate information - even thought we know it's wrong.
Related Content
Explore the Program: Good People, Bad Choices™ A Guide to Ethical Decision Making