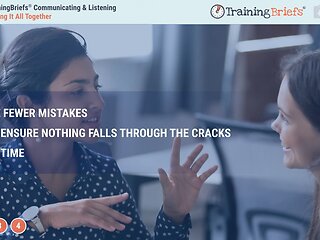 eLearning Course
TrainingBriefs® Communicating & Listening
Effective Communication
New Micro-Learning! Excelling at work doesn't simply mean you should be good at what you do, but how professionally you conduct yourself in a team. In this course, we'll explore the power of effectively communicating and listening.
Create Free Account Sign In 1521 views
Suggested Industry Usage
Competencies
Developing High-Performing Work Habits
Interactivity
Audible Narration

Integrated Video

Interactions and Activities

Post-Assessment
Request a Quote
Training Files (1)
| Title | Type | Time/Pages | Language | |
| --- | --- | --- | --- | --- |
Additional Information
Trainer Comments: When we communicate clearly and actively listen; we make fewer mistakes, help ensure nothing falls through the cracks and we save time.
Related Content
Explore the Program: WorkSmarts: How to Get Along, Get Noticed and Get Ahead™