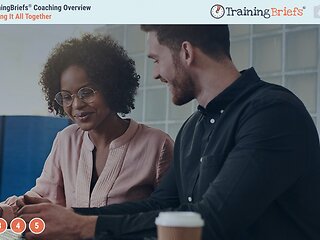 eLearning Course
TrainingBriefs® Coaching Overview
Introduction to Coaching
New Micro-Learning! Have you ever been reluctant to coach an employee because you didn't know where to begin or how to handle what may come up during the conversation? Yes, coaching can be scary. You have to excel in the necessary interpersonal skills while at the same time follow a process.
Create Free Account Sign In 1698 views
Suggested Industry Usage
Competencies
Coaching for Performance

Developing Core Leadership Skills
Interactivity
Audible Narration

Integrated Video

Interactions and Activities

Post-Assessment
Request a Quote
Training Files (1)
| Title | Type | Time/Pages | Language | |
| --- | --- | --- | --- | --- |
Additional Information
Trainer Comments: Good communication and interpersonal skills are vital to successful coaching. Help identify the skills you need as a manager/supervisor to build a positive foundation for a coaching conversation.
Related Content
Explore the Program: Courage 2 Coach™