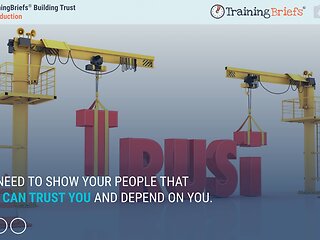 eLearning Course
TrainingBriefs® Building Trust
Leveraging The Power of Trust
New Micro-Learning! To build relationships you have to start by building trust. And that doesn't just happen... you have to work on it. You need to show your people that they can trust you and depend on you. If your employees see you right there with them, doing the job with them and working with them in a way that builds that trusting bond, they're going to trust you.
Create Free Account Sign In 1937 views
Suggested Industry Usage
Competencies
Developing Core Leadership Skills

Developing Critical Work Skills
Interactivity
Audible Narration

Integrated Video

Interactions and Activities

Post-Assessment
Request a Quote
Training Files (1)
| Title | Type | Time/Pages | Language | |
| --- | --- | --- | --- | --- |
| | eLearning Course | – | English | Preview |
Additional Information
Trainer Comments: An important take-away from this module is, if an employee doesn't trust their manager, supervisor or leader, the company suffers.
Related Content
Explore the Program: Whale Done!: The Power of Positive Relationships™