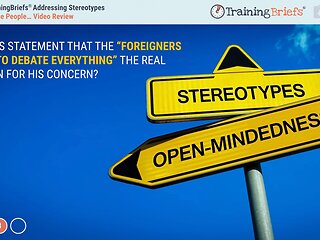 eLearning Course
TrainingBriefs® Addressing Stereotypes
Understanding Stereotypes and Bias
New Micro-Learning! Sometimes people look at another group as being different just based upon skin color or racial traits. It's often easy to see other human beings as different if you look at them through the "We – Them" mindset. This depersonalizes people.
Create Free Account Sign In 3772 views
Suggested Industry Usage
Competencies
Understanding Diversity

Fostering Inclusion, Equity & Belonging
Interactivity
Audible Narration

Integrated Video

Interactions and Activities

Post-Assessment
Request a Quote
Training Files (1)
| Title | Type | Time/Pages | Language | |
| --- | --- | --- | --- | --- |
| | eLearning Course | – | English | Preview |
Additional Information
Trainer Comments: It is everyone's responsibility to help create a tolerant and inclusive work environment. We can all do that by showing inclusive behavior among our coworkers, creating an environment of respect, and holding each other accountable for inclusive behavior in our daily activities.
Related Content
Explore the Program: Right Side of the Line: Creating a Respectful and Harassment-Free Workplace™