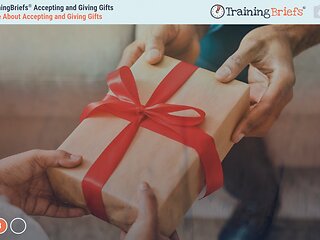 Recently Updated
eLearning Course
TrainingBriefs® Accepting and Giving Gifts
Accepting Gifts from Vendors/Suppliers
Updated! The acceptance of gifts, services, and hospitality can leave an organization vulnerable to accusations of unfairness, partiality, deceit, or even unlawful conduct. This is one of many ethical issues that come up in the workplace.
Create Free Account Sign In 1605 views
Suggested Industry Usage
Competencies
Ensuring Professional and Compliant Behavior

Promoting Ethical Conduct
Interactivity
Audible Narration

Integrated Video

Interactions and Activities

Post-Assessment
Request a Quote
Training Files (1)
| Title | Type | Time/Pages | Language | |
| --- | --- | --- | --- | --- |
Additional Information
Trainer Comments: The giving and accepting gifts could have a negative impact on you an the organization. Ensure you know your company's policy on gifts.
Related Content
Explore the Program: A.C.T. with Integrity: Real Situations for Discussions™