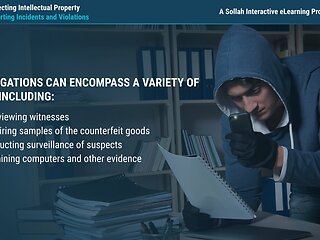 eLearning Course
Protecting Intellectual Property
An Overview of IP Protection
A great primer on IP protection! Intellectual property protection is critical to fostering innovation. Without protection of ideas, businesses and individuals would not fully benefit from their inventions and would focus less on research and development.
Create Free Account Sign In 1421 views
Topics
Suggested Industry Usage
Competencies
Ethics and Compliance

Promoting Ethical Conduct
Interactivity
Audible Narration

Linear Navigation

Integrated Video

Interactions and Activities

Post-Assessment

Animations
Request a Quote
Training Files (1)
| Title | Type | Time/Pages | Language | |
| --- | --- | --- | --- | --- |
| | eLearning Course | – | English | Preview |
Additional Information
Trainer Comments: Intellectual property, or IP, is a group of legal rights that provides protection over things people or organizations create or invent. It refers to creations of the mind, such as inventions; literary and artistic works; designs; and symbols, names and images used in commerce.
Related Content