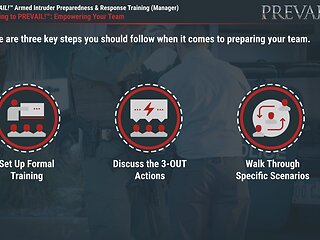 eLearning Course
PREVAIL!® Armed Intruder Preparedness & Response Training (Advantage Plus - Manager)
Armed Intruder / Active Shooter Preparedness & Response Training
Since the 1980's, workplace violence has been recognized as a leading cause of occupational injury and mortality. Violence on the job manifests itself in many forms; from emotional abuse to bullying to assault and even homicide. PREVAIL!® will help you - the manager/supervisor - better respond in violent situations involving an armed threat. The goals & objectives of this course provide you with information and strategies on recognizing and responding to the dynamic challenges and issues of violent incidents within the workplace.
Create Free Account Sign In 3138 views
Topics
Suggested Industry Usage
Competencies
Developing High-Performing Work Habits

Keeping a Safe Workplace

Leading and Managing for Peak Performance
Interactivity
Audible Narration

Integrated Video

Interactions and Activities

Pre-Assessment

Post-Assessment

Simulations

Animations
Request a Quote
Training Files (1)
| Title | Type | Time/Pages | Language | |
| --- | --- | --- | --- | --- |
| | eLearning Course | – | English | Preview |
Additional Information
Trainer Comments: It may help you to think of preparing for an armed intruder event in the same way that you prepare your team for a fire, an earthquake or tornado. By taking a few minutes to train your team for one of these events, you help them know what to do in the very unlikely event that it actually happens. The exact same thing holds true when preparing for an armed intruder event.
Related Content
Explore the Program: PREVAIL!™ Armed Intruder/Active Shooter Training