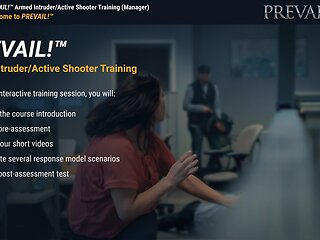 Most Popular
eLearning Course
PREVAIL!® Armed Intruder/Active Shooter Training (Advantage - Manager)
Armed Intruder & Active Shooter Training for Managers
You're a leader within your organization. Others look to you as a mentor and guide - day to day … and especially in times of need. One of the times you may be asked to lead is when the unthinkable happens. The preparation you take now – and the steps you help others around you take – will help increase the chances of prevailing during an armed intruder/active shooter situation.
Create Free Account Sign In 3602 views
Topics
Suggested Industry Usage
Competencies
Developing High-Performing Work Habits

Keeping a Safe Workplace
Interactivity
Audible Narration

Integrated Video

Interactions and Activities

Pre-Assessment

Post-Assessment

Simulations

Animations
Request a Quote
Training Files (1)
| Title | Type | Time/Pages | Language | |
| --- | --- | --- | --- | --- |
| | eLearning Course | – | English | Preview |
Additional Information
Trainer Comments: It may help you to think of preparing for an armed intruder event in the same way that you prepare your team for a fire, an earthquake or tornado. By taking a few minutes to train your team for one of these events, you help them know what to do in the very unlikely event that it actually happens. The exact same thing holds true when preparing for an armed intruder event.
Related Content
Explore the Program: PREVAIL!™ Armed Intruder/Active Shooter Training