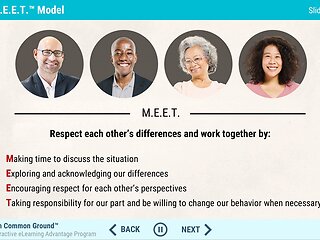 eLearning Course
M.E.E.T. on Common Ground™: An Advantage eLearning Course
Diversity, Inclusion & Respect
This highly interactive eLearning program helps counteract the shame, blame and stereotyping that create toxic environments and undermine productivity. Using the M.E.E.T. approach, employees learn to recognize, respond to and resolve situations that stem from differences.
Create Free Account Sign In 5759 views
Topics
Suggested Industry Usage
Competencies
Understanding Diversity

Fostering Inclusion, Equity & Belonging
Interactivity
Audible Narration

Integrated Video

Interactions and Activities

Post-Assessment

Game Component
Request a Quote
Training Files (1)
| Title | Type | Time/Pages | Language | |
| --- | --- | --- | --- | --- |
Additional Information
Trainer Comments: This course is designed to help you recognize, respond to and resolve difficult interactions that can stem from individual and cultural differences.
Related Content
Explore the Program: M.E.E.T. on Common Ground™: Speaking Up for Respect in the Workplace