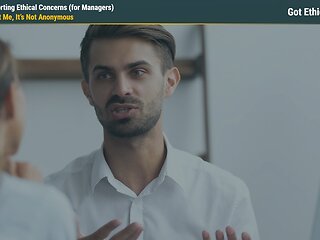 eLearning Course
Got Ethics?® Reporting Ethical Concerns (for Managers)
Reporting Ethical Issues/Concerns
This eLearning module focuses on a problem many leaders struggle with. Namely, ensuring that their subordinates/direct reports have faith in the system of reporting ethical violations.
Create Free Account Sign In 3814 views
Suggested Industry Usage
Competencies
Promoting Ethical Conduct
Interactivity
Audible Narration

Branching

Integrated Video

Interactions and Activities

Post-Assessment
Request a Quote
Training Files (1)
| Title | Type | Time/Pages | Language | |
| --- | --- | --- | --- | --- |
| | eLearning Course | – | English | Preview |
Additional Information
Trainer Comments: Managers who "L.E.A.D. with Integrity" fully understand the key elements of the organization's business conduct and compliance program, including the Code of Conduct and resources for guidance and reporting and take advantage of opportunities to reinforce the value of the program to employees.
Related Content
Explore the Program: L.E.A.D. with Integrity: Promoting a Culture of Ethical Conduct and Compliance