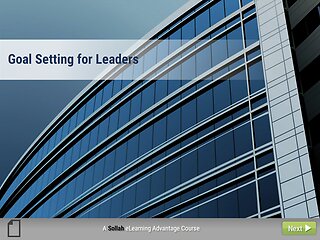 eLearning Course
Goal Setting for Leaders: An Advantage eLearning Course
Goals, Goal Setting, Leadership
Learners of this eLearning course will: 1) Understand the importance of goal setting; 2) Identify specific areas that require goal setting; 3) Learn how to write SMART Goals: 4) Identify ways to provide feedback that will aid team members in accomplishing their goals.
Create Free Account Sign In 7254 views
Suggested Industry Usage
Competencies
Developing Core Leadership Skills

Promoting Teamwork
Interactivity
Audible Narration

Interactions and Activities

Virtual Role-Play

Simulations
Request a Quote
Training Files (1)
| Title | Type | Time/Pages | Language | |
| --- | --- | --- | --- | --- |
Additional Information
Trainer Comments: These ready-to-use Advantage Series eLearning courses are designed to meet the learning preferences and styles of all generations of learners. They feature business simulations, virtual role-play and other forms of interactivity to assure engaging, effective learning.
Related Content