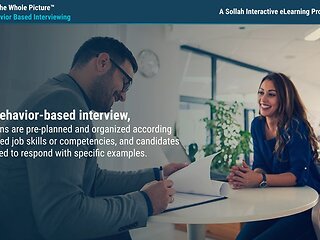 eLearning Course
Get the Whole Picture™: Asking Probing Questions in a Behavioral-Based Interview
Behavior-Based Interviewing Skills
This course was created for people who are already familiar with basic behavior-based interviewing. It is an advanced workshop-format designed to significantly improve probing skills. Developed in collaboration with Dr. Paul Green, a leading industrial psychologist and behavioral-based interviewing expert, this course enables participants to identify their personal probing style and then practice five effective probing strategies.
Create Free Account Sign In 3556 views
Suggested Industry Usage
Competencies
Interviewing for Capability and Cultural Fit
Interactivity
Audible Narration

Linear Navigation

Integrated Video

Interactions and Activities

Pre-Assessment

Post-Assessment
Request a Quote
Training Files (1)
| Title | Type | Time/Pages | Language | |
| --- | --- | --- | --- | --- |
Additional Information
Trainer Comments: Great tool for new and experienced interviewers. Bring greater understanding of the skills and behaviors required of the positions that you are hiring for.
Related Content
Explore the Program: Get the Whole Picture: Asking Probing Questions in a Behavior-based Interview™