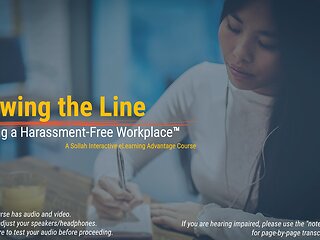 Most Popular
eLearning Course
Drawing the Line: Creating a Harassment-Free Workplace™ (Standard)
Harassment Prevention Training
Managers must be able to recognize, even address and report harassment in an appropriate and timely manner. It's their responsibility! To ensure effectiveness, this course goes beyond basic sexual harassment training to address multiple forms of unacceptable workplace behavior including discrimination, retaliation, bullying and other forms of harassment that may occur in your workplace.
Create Free Account Sign In 25051 views
Suggested Industry Usage
Competencies
Demonstrating Integrity & Professionalism

Managing Risk
Interactivity
Audible Narration

Linear Navigation

Integrated Video

Interactions and Activities

Post-Assessment

Case Studies
Request a Quote
Training Files (1)
| Title | Type | Time/Pages | Language | |
| --- | --- | --- | --- | --- |
Additional Information
Trainer Comments: This course addresses harassment in all its forms, including hazing, gossip, retaliation, workplace bullying and much more. Meets federal compliance standards for harassment prevention training, giving employees the tools to resolve situations before they escalate.
Related Content
Explore the Program: The Right Side of the Line: Creating a Respectful & Harassment-Free Workplace™