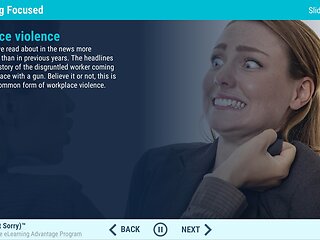 eLearning Course
Be S.A.F.E. (Not Sorry)™: An Advantage eLearning Course
Workplace Violence Prevention
Millions of workers experience violence or the threat of violence in their workplaces every year. Therefore, it's important to understand what workplace violence is or isn't so you can create and maintain a safe work environment. This course introduces you to the S.A.F.E. model - an easy-to-understand way to help prevent or reduce the potential for workplace violence and abusive conduct.
Create Free Account Sign In 3705 views
Suggested Industry Usage
Competencies
Ensuring Professional and Compliant Behavior

Keeping a Safe Workplace
Interactivity
Audible Narration

Integrated Video

Interactions and Activities

Post-Assessment

Game Component
Request a Quote
Training Files (1)
| Title | Type | Time/Pages | Language | |
| --- | --- | --- | --- | --- |
| | eLearning Course | – | English | Preview |
Additional Information
Trainer Comments: Get the tools and the skills you need to help create and maintain a safe workplace environment, free from threats and violence.
Related Content
Explore the Program: Be S.A.F.E. (Not Sorry): Preventing Violence in the Workplace™