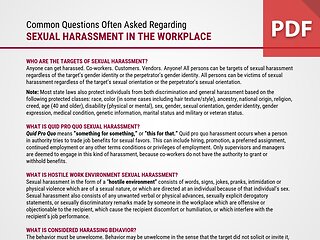 New Asset
FAQ - Sexual Harassment in the Workplace
Understanding Sexual Harassment
Common questions often asked about workplace sexual harassment. The FAQ is a quick list of questions most asked regarding sexual harassment. It also includes the most common definitions often found in sexual harassment training.
Create Free Account Sign In 1122 views
Topics
Suggested Industry Usage
Competencies
Ensuring Professional and Compliant Behavior
Buying Options
Training Files (2)
| Title | Type | Time/Pages | Language | |
| --- | --- | --- | --- | --- |
Additional Information
Trainer Comments: A great resource (and reminder) for post-sexual harassment training sessions. The FAQ is concise and easy to understand.
Related Content
Explore the Program: ENOUGH!™ The Consequences of Sexual Harassment