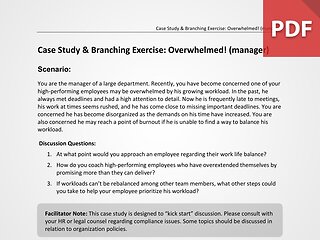 Case Study & Branching Exercise: Overwhelmed! (Manager)
Getting to the Bottom of Performance Issues
You are the manager of a large department. Recently, you have become concerned one of your high-performing employees may be overwhelmed by his growing workload. What do you do? Kick start a great discussion with this case study and branching exercise.
Create Free Account Sign In 1726 views
Suggested Industry Usage
Competencies
Developing Core Leadership Skills

Leading and Managing for Peak Performance
Buying Options
Training Files (1)
| Title | Type | Time/Pages | Language | |
| --- | --- | --- | --- | --- |
Additional Information
Trainer Comments: Create captivating discussions with this case study and detailed branching exercise.
Related Content