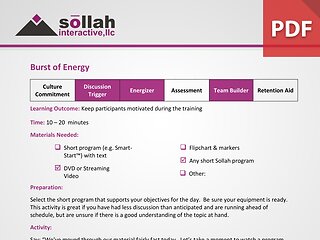 Burst Of Energy
Keep Participants Focused on the Session
The goal of this energizer is to keep participants motivated during the training.
Create Free Account Sign In 8288 views
Buying Options
Training Files (1)
| Title | Type | Time/Pages | Language | |
| --- | --- | --- | --- | --- |
Additional Information
Trainer Comments: Select the short program that supports your objectives for the day. Be sure your equipment is ready. This activity is great if you have had less discussion than anticipated and are running ahead of schedule, but are unsure if there is a good understanding of the topic at hand.
Related Content
Explore the Program: Beyond the Box Activity Binder - eFile