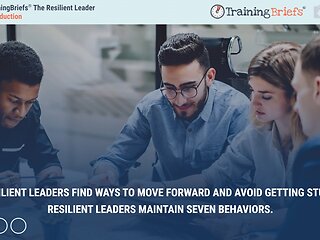 Recently Updated
eLearning Course
TrainingBriefs® The Resilient Leader
Effective Leadership
New Micro-Learning! Resilient leaders recover quickly from failures and merely look at them as temporary setbacks. They maintain a positive attitude and a strong sense of opportunity during periods of turbulence. When faced with uncertainty, resilient leaders find ways to move forward and avoid getting stuck.
Create Free Account Sign In 1888 views
Topics
Suggested Industry Usage
Competencies
Leading and Managing for Peak Performance
Interactivity
Audible Narration

Integrated Video

Interactions and Activities

Post-Assessment
Request a Quote
Training Files (1)
| Title | Type | Time/Pages | Language | |
| --- | --- | --- | --- | --- |
| | eLearning Course | – | English | Preview |
Additional Information
Trainer Comments: Resilient leaders are perceived more positively in their organization, but it's sometimes difficult to understand specifically what a leader can do to be viewed as more resilient. Choosing to improve - on even a few of these behaviors - will help you to be seen as a more resilient and effective leader!
Related Content
Explore the Program: Peer Today, Boss Tomorrow™: Navigating Your Changing Role