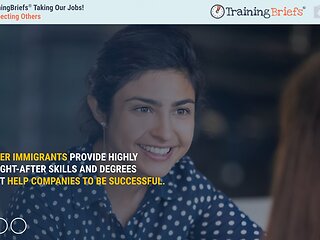 eLearning Course
TrainingBriefs® Taking Our Jobs!
Inequities Towards Immigrants
New Micro-Learning! Wanting to have economic security is a basic need for everyone. But, in taking care of our economic needs, we need to make sure that we are not being disrespectful (or discriminatory) of others in the process. Caring for ourselves and our families is something that everyone in the world worries about. Immigrants are no exception of the rule.
Create Free Account Sign In 1471 views
Suggested Industry Usage
Competencies
Understanding Diversity

Fostering Inclusion, Equity & Belonging
Interactivity
Audible Narration

Integrated Video

Interactions and Activities

Post-Assessment
Request a Quote
Training Files (1)
| Title | Type | Time/Pages | Language | |
| --- | --- | --- | --- | --- |
| | eLearning Course | – | English | Preview |
Additional Information
Trainer Comments: Often immigrants are willing to take jobs that other people find too hard or that they are not willing to take because they have other opportunities. This is never a reason to discriminate or treat others differently.
Related Content
Explore the Program: The Oh Series™ Everyday Diversity