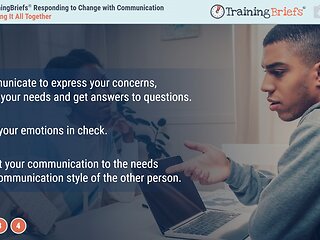 eLearning Course
TrainingBriefs® Responding to Change with Communication
Adjusting to Change
New Micro-Learning! Change is pervasive and constant. And that's why being able to navigate change is a required skill. This course leverages the Change Response Strategy - a tool you can use in any change situation to analyze a change and effectively communicate to express your concerns, share needs, and get answers to questions.
Create Free Account Sign In 1766 views
Suggested Industry Usage
Competencies
Creating a Collaborative Environment

Facilitating Change
Interactivity
Audible Narration

Integrated Video

Interactions and Activities

Post-Assessment
Request a Quote
Training Files (1)
| Title | Type | Time/Pages | Language | |
| --- | --- | --- | --- | --- |
| | eLearning Course | – | English | Preview |
Additional Information
Trainer Comments: The "Communicate" step in The Change Response Strategy helps you gain the cooperation, support and commitment of coworkers and managers when navigating change.
Related Content
Explore the Program: Ready. Set. CHANGE!: Reacting Smarter. Adapting Faster. Engaging Together.™