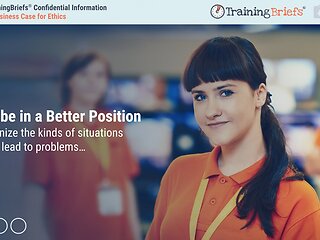 Recently Updated
eLearning Course
TrainingBriefs® Confidential Information
The Importance of Keeping Things Confidential
Updated! Maintaining confidentiality at the workplace is of utmost importance in today's competitive world to ensure that information about customers, clients, and employees are safe. This course delves into the importance of keeping things confidential.
Create Free Account Sign In 1652 views
Suggested Industry Usage
Competencies
Promoting Ethical Conduct
Interactivity
Audible Narration

Integrated Video

Interactions and Activities

Post-Assessment
Request a Quote
Training Files (1)
| Title | Type | Time/Pages | Language | |
| --- | --- | --- | --- | --- |
| | eLearning Course | – | English | Preview |
Additional Information
Trainer Comments: Conflicts between our obligations to friends and the organization can make decisions difficult; in those situations, we must let the law and the organization's policy be our guide. Confidential information must always remain confidential.
Related Content
Explore the Program: A.C.T. with Integrity: Real Situations for Discussions™