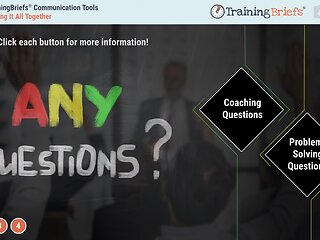 Recently Updated
eLearning Course
TrainingBriefs® Communication Tools
Effective Communication
New Micro-Learning! Let's face it, leaders can never have enough communication skills to deal with all of the situations that come their way in the workplace. By the end of this module, you will be able to identify coaching and problem-solving questions to help employees develop greater competence and confidence.
Create Free Account Sign In 2141 views
Topics
Suggested Industry Usage
Competencies
Developing Core Leadership Skills

Leading and Managing for Peak Performance
Interactivity
Audible Narration

Integrated Video

Interactions and Activities

Post-Assessment
Request a Quote
Training Files (1)
| Title | Type | Time/Pages | Language | |
| --- | --- | --- | --- | --- |
| | eLearning Course | – | English | Preview |
Additional Information
Trainer Comments: Coaching questions help the employee develop the competence and confidence to solve the problem. Problem-solving questions, on the other hand, keep the ball in your court; while you guide the employee to do what you think needs doing.
Related Content
Explore the Program: Peer Today, Boss Tomorrow™: Navigating Your Changing Role