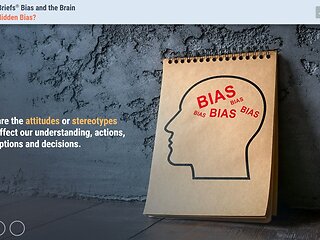 Recently Updated
eLearning Course
TrainingBriefs® Bias and the Brain
Understanding Stereotypes and Unconscious Bias
New Micro-Learning! Unconscious bias refers to a bias that we are unaware of, and which happens outside of our control. It is a bias that happens automatically and is triggered by our brain making quick decisions from data it gathers and then adding meaning to it.
Create Free Account Sign In 1904 views
Topics
Suggested Industry Usage
Competencies
Understanding Diversity

Fostering Inclusion, Equity & Belonging
Interactivity
Audible Narration

Integrated Video

Interactions and Activities

Post-Assessment

Downloadable Job Aid
Request a Quote
Training Files (1)
| Title | Type | Time/Pages | Language | |
| --- | --- | --- | --- | --- |
Additional Information
Trainer Comments: Bias is something we all have, and by itself, it is neither good nor bad. Bias are the attitudes or stereotypes that affect our understanding, actions, perceptions and decisions.
Related Content
Explore the Program: Everyday Diversity™ Recruiting, Hiring & Retaining Diverse Talent