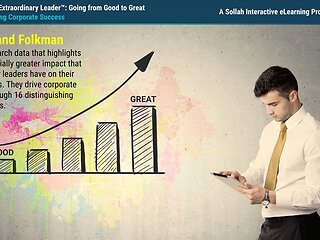 eLearning Course
The Extraordinary Leader: Going from Good to Great™ - eLearning
Competency-Based Leadership
In a world growing increasingly complex, there is an urgent need for leaders at every level and in every organization. The need is for leaders who are prized because of contributions they make to their organizations, the role models they present and the elevated standards of performance they set. The Extraordinary Leader is a course designed to help leaders develop competencies needed to produce extraordinary results in their organizations.
Create Free Account Sign In 7536 views
Topics
Suggested Industry Usage
Competencies
Developing Core Leadership Skills
Interactivity
Audible Narration

Linear Navigation

Integrated Video

Interactions and Activities

Pre-Assessment

Post-Assessment
Request a Quote
Training Files (1)
| Title | Type | Time/Pages | Language | |
| --- | --- | --- | --- | --- |
| | eLearning Course | – | English | Preview |
Additional Information
Trainer Comments: Use to take your leaders to the next level; give people the opportunity to explore personal strengths and maximize their potential through the identification of their 'sweet spot' within the organization. Help turn managers and supervisors into extraordinary leaders.
Related Content
Explore the Program: The Extraordinary Leader™: Going from Good to Great