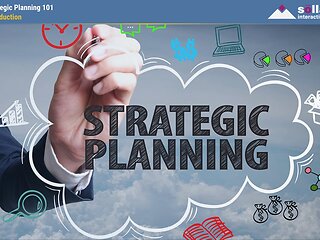 eLearning Course
Strategic Planning 101 (Advantage Course)
Introduction to Strategic Planning
Powerful eLearning Primer! Organizations of all types and sizes use strategic plans to become more successful and competitive. Strategic plans help to focus energy and resources on activities that align with the organization's mission and vision. They help to increase efficiency and reduce costs; improve marketing efforts and organizational development; and manage risk and uncertainty by making the organization more responsive to a changing environment.
Create Free Account Sign In 1657 views
Topics
Suggested Industry Usage
Competencies
Transforming the Organization
Interactivity
Audible Narration

Interactions and Activities

Downloadable Job Aid
Request a Quote
Training Files (1)
| Title | Type | Time/Pages | Language | |
| --- | --- | --- | --- | --- |
Additional Information
Trainer Comments: Learning to write a strategic plan provides you with a crucial management tool for focusing your team's efforts on getting the right things done. By increasing your ability to help the organization achieve its goals, improving your strategic planning skills will also make you more valuable to your organization and improve your career prospects.
Related Content