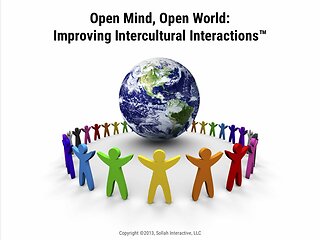 eLearning Course
Open Mind, Open World: Improving Intercultural Interactions™ eLearning Advantage Plus
Diversity, Inclusion & Respect
This highly interactive course will help employees and managers gain insights, strategies and skills that help minimize cultural misunderstandings and strengthen interactions.
Create Free Account Sign In 8877 views
Topics
Suggested Industry Usage
Competencies
Understanding Diversity

Fostering Inclusion, Equity & Belonging
Interactivity
Audible Narration

Branching

Integrated Video

Interactions and Activities
Request a Quote
Training Files (1)
| Title | Type | Time/Pages | Language | |
| --- | --- | --- | --- | --- |
| | eLearning Course | – | English | Preview |
Additional Information
Trainer Comments: Global communication issues can and do exist as a fact of business life today, and many organizations are communicating across cultures (if not in their employee population then with your vendors, customers and business partners). Each of us is a product of our culture. We grow up thinking our culture is "normal" and other cultures are "different." The values or norms of other cultures are not always obvious to us. In a work environment, cultural differences can present challenges. The O.P.E.N. model discussed in this course will aid in your communication.
Related Content
Explore the Program: Open Mind, Open World: Improving Intercultural Interactions™